UTHealth House Calls, Presented by Mercedes-Benz Dealers of Greater Houston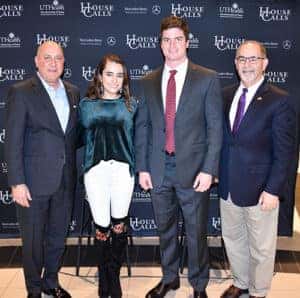 Focused on educating Houston about top-of-mind health issues, UTHealth recently hosted a series of monthly live web chats at area Mercedes-Benz dealerships across the city. The web chats were livestreamed online with recorded videos available after the event, so Houstonians can watch where and when they want. The series is titled House Calls, highlighted a different topic each month including heart health, sports medicine, pediatrics, back pain and healthy aging.
We were honored to host the last House Call on November 15, which physicians shared advice on how treating your body, no matter your age, can affect your health in the future.
Attendees submitted questions on drinking water, knee replacements and dental health for the question and answer portion of the event, and a reception followed, where they were able to speak with the physicians one-on-one.
We were pleased to partner with UTHealth to provide this invaluable information to our community and look forward to partnering again in the future.