Mercedes-Benz of Clear Lake Recognized by Clear Creek ISD for Longstanding Support
Mercedes-Benz of Clear Lake's commitment to the Clear Creek Independent School District (CCISD) and the Clear Creek Education Foundation (CCEF) was recently commemorated when a CCEF grant was named after the dealership.
Teachers apply for the CCEF grant program to implement new and innovative ideas that help to provide better learning experiences in the classroom. In the past, the CCEF grant program has funded 39 grants at the amount of $125,558 and impacted many teachers in the CCISD for the 2019-2020 school year.
Michele Cruthirds from Ralph Parr Elementary, was surprised with the Teacher Innovative Grant for her second grade class' electronic portfolios. With this grant of nearly $3,000, Cruthirds plans to have students create their own online digital portfolios that will help to document their educational performance overtime. These online portfolios can help students to reflect on their educational progress as well as share this information easily with parents.
Mercedes-Benz of Clear Lake looks forward to continuing to supporting and working with CCISD and CCEF to provide students with the best educational opportunities for years to come.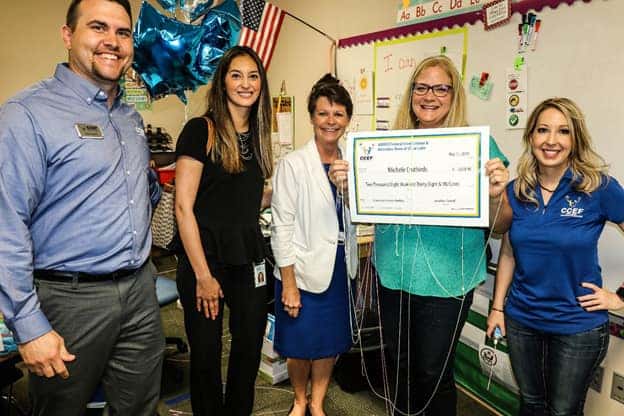 Pictured left to right: Adam Smith (CCEF Board Member), AMOCO Federal Credit Union representative (CCEF partner), Jane Kelling (Ralph Parr Elementary principal) Michele Cruthirds (grant recipient) and Gina Conklin (CCEF Board Member)